Expert Patient Advisory Group
The Expert Patient Advisory Group (EPAG) was launched in Barcelona in July 2013 at Europa CCPC. It is a dedicated group whose members are from various countries in Europe. We have all experienced some form of colorectal cancer and it is through our own experience that we try to help other patients who are suffering this disease.
Treatments and procedures for CRC vary tremendously in each country and we acknowledge that there are financial restrictions. However, there is much to be learnt from the personal experience of the patient that can improve the experience for others in the future and even prevent incidence.
We aim to help the patient to learn how to be part of their own healthcare team and to make decisions that affect their life. We do this by producing documents in patient language. We also feel that in relating our experiences, we can help the decision makers to prioritise what is of importance to the patient and their family.


--------------------------------------------------------------------------

EPAG News




EPAG 2018 Meeting at EuropaColon's 3rd Advocacy Masterclass in Barcelona

EPAG 2017 Meeting at EuropaColon's 2nd Advocacy Masterclass in Barcelona

****

ESMO 2016 Copenhagen, October 7 to 11 2016
ESMO 2016 was EPAG's first experience of attending such a large congress as a group. Each of us had to apply for a grant to attend the congress in Copenhagen and we were all successful! There were over 20,000 attendees from all ranks of the medical profession and stakeholders.
During the event, there was a Patient Advocacy Track especially arranged for us and this covered an array of subjects related to advocacy and to differing types of cancer. Of great interest were the presentations on fast track access to drugs by the EMA / HTA organisations and the fantastic presentation on immuno-oncology; how to use the immune system to fight cancer by Dr. Paul Nathan. Cancer treatment has become so expensive and there were interesting viewpoints on how to make new drugs more accessible. We learnt that drugs used for treating one type of cancer were being looked at more closely for treating others. There were also strong presentations from patients stressing how their interaction and active participation during their treatment played an important part in their outcome, leading to their survival. Patient empowerment is certainly a message that we continually present.
The EPAG was also able to spend quality time as a group, developing our plans for the future. One of our major projects, led by Geoffrey Henning, is to develop a dedicated website that will help colorectal cancer patients across Europe. The work on the survey related to the unmet needs of cancer patients is progressing too, led by Zorana Maravic. There is really so much ahead for us to be involved in and we are excited by the difference we can make to help CRC patients in Europe.
Barbara Moss
--------------------------------------------------------------------------

EPAG currently has the following members


Chair: Barbara Moss - Colorectal cancer survivor, EuropaColon Chair of Expert Patient Advisory Group. United Kingdom
Barbara worked as an English teacher for 30 years. At the age of 52, she was diagnosed with Stage IV colorectal cancer of the colon, spread to the liver. She underwent several treatments of conventional chemotherapy and was then treated with Avastin, at her request. This had such a dramatic effect on her tumour that it became resectable and changed her prognosis from only palliative to possible cure. She also overcame a recurrence of the disease in her lymph.
Barbara has since been an active campaigner for best treatment to be available for CRC patients and help them through her experience. She has also written a book called, 'Who's been Peeping in my Bed?' which tells her story.
She is Patient Ambassador for Europacolon and Bowel Cancer UK.
Barbaras CCPC 2013 Presentation

Maria Celeste Correia Ramos - Portugal
Maria Celeste Correia Ramos was diagnosed with Stage IV Colorectal cancer in December 2007. She was treated with radiotherapy and chemotherapy for 6 weeks to try to diminish the lesion so that she could be operated on

in May

.


The treatment had some success and, although painful,she endured it till the 14

th

May – the day of the operation.

After that she received another 7 months of adjuvant chemotherapy. Now she has periodical consultations - at the beginning every 3 months, extending to every 6 months in the fourth year and after that every 8 months.

C

eleste is

an English teacher in a secondary school in Portugal, still working with her 6 classes of students. She has always loved her work and that is why she doesn't want to think about retiring. She says, "When I became ill, Europacolon Portugal helped me a lot with psychology and nutrition consultations so, it was only fair to give back to others a little bit of what I received. That's why I didn't hesitate to say yes to being a member of EPAG, Europacolon when I was invited. I'm ready to help in any way I can".
Wolfram Nolte - Colorectal Cancer Patient. GERMANY
Wolfram Nolte is 68, married and has one son and one granddaughter. He has been retired since the end of 2007 and had previously worked as an International Sales Manager in Industry. From the beginning of 2009 after being
diagnosed with colorectal cancer, he has had several cycles of chemotherapy.
He has had no further tumour manifestations since early 2012. He is currently active in the patient support groups: Family Support CRC. He is also associated to the international patient advocacy organisations: EuropaColon and Lynch Syndrome International.

Wolfram sadly passed away on 31st May 2018. He will be remembered fondly by his friends and family and he will always remain a special asset to the EuropaColon team.

Dora Constantinides - Cyprus
Dora worked as part-time lecturer on Marketing, PR and Management Studies and was involved for a decade with The Cyprus Consumers' Association and the publishing of the first Good Food Guide of Cyprus.

At the age of 42 and with 3 children (11, 15 and 18) Dora was diagnosed with Dukes B Stage II (colorectal ca). She underwent major surgery, had a colostomy and soon after was elected municipal councilor for Nicosia, representing the newly formed Green Party, for 21/2 years. In April 1997 she joined PASYKAF (The Cyprus Association of Cancer Patients and Friends) on the Administrative Team. Together with her personal experience her work added to the spark for raising awareness on colorectal cancer issues involving all the parameters from prevention and early diagnosis to treatment and preserving patients their quality of life at all stages.

Today, Head of Awareness at PASYKAF and contact person for EuropaColon she is committed to the campaign for reducing the incidence and mortality rates due to particularly colorectal cancer."

Jolien Pon - Colorectal Cancer Survivor, The Netherlands

Jolien Pon is 70, married and has 3 sons, 1 grandson and 6 granddaughters. She worked in her own organisation, which offered multidisciplinary treatment for more than 20 years to obese persons . She retired in 2012.
In 2008 she was diagnosed with Stage III colorectal cancer, spread to the lymph nodes. She had two operations and 8 cycles of chemotherapy. Since 2010 Jolien is active in Darmkanker Nederland (Chair)

Marta Satler - Slovenia
Marta Satler worked at the Univesity of Ljubljana as a chemical engineer on research production, processing and the preparation of meat, and on practical exercises with students of food technology. After 35 years of work, she retired and she has been chief editor of the professional magazine, 'Meat and Meat Products' for 4 years.
In 2003, at the age of 58, she sufferied from Stage III bowel cancer. After surgery she received chemotherapy for 6 months and has been under medical observation for 6 years.
She is a member of Europacolon Slovenia and working as a volunteer at the Institute of Oncology for 7years.
Anthony Rossi - Colorectal Cancer Patient - Malta

Anthony Rossi is 62 years old, married and has two daughters, two grandsons and one granddaughter.

Anthony has been working with a local well established Group of Companies in Malta for the last 40 years occupying various positions such as Finance Manager, Incoming Manager for the Leisure & Travel Division and now as a Company Secretary for most of the companies within the same Group.

Thanks to a friend of his, who works at the National Screening Centre in Malta, who insisted and urged Anthony to have the Screening Test (FIT) done, he was diagnosed with Stage ll of Colorectal Cancer.

His early cancer detection inspired him to talk very openly about his story and encourage others to get screened.

After the operation of an anterior resection of the Colon in April 2015, and after recovery, together with the help of the Head of the National Screening Programme and a practice nurse, Anthony decided to set up a new NGO in Malta which is called "Malta Colorectal Cancer Awareness Group" - MCRCAG.

His Vision for this organization is for the Maltese Islands to be free of Colorectal Cancer where education, prevention, early detection and treatment lead to increased survival for all.


Carlos Hue
Carlos was born in 1951. He is married and has two daughters. He is an education doctor and has been working as a psychologist in a public educational administration and at the University of Zaragoza in Spain. He worked in this capacity for forty years and has only just retired.

In 2003, Carlos was diagnosed with Stage II CRC. He underwent major surgery and had a colostomy, followed by a short course of conventional chemotherapy. He recovered very quickly and was able to return straight back to work.

In 2006, along with other CRC patients, Carlos founded Europacolon Spain, an Affiliate of Europacolon, where he has been the Vice President from the start. He participates in conferences and lectures on how patients can improve their quality of life. As an expert in psychology, he explains how they can do this through positivity and hope.

With his association, Carlos is fighting for prevention of CRC through FOB testing. He is also fighting against the inequalities in the Spanish Health System.
Objectives of the Group:
The key objectives of EPAG are to:
1. Review and create resources for patients to increase their involvement in their treatment and eventually move into advocacy to improve outcomes.
2. Determine the unmet needs of patients and translate this into information to enable patient organisations to better help patients.
3. Identify and comment on suitable prevention measures.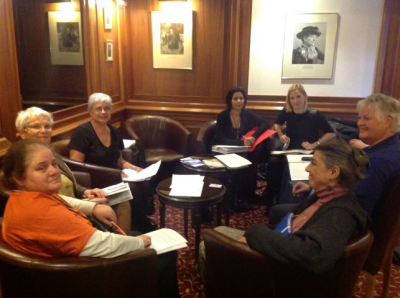 22nd - 23rd Nov 2013 - First meeting held in London (pictured)
9th Feb 2014 - Lisbon meeting. Agenda and minutes.

6th - 8th Nov 2015 - Annual affiliates and associates meeting in Warsaw.
---

Why RAS testing of your tumour is important
Modern medicine is changing fast, bringing changes to all areas, not only cancer. One new approach is making the treatment fit your needs, this is known as personalised medicine. Research shows that choosing a medicine to suit the biology of the patient causes fewer side effects and delivers better outcomes from the medicine.

Where ever you live, you need to check with your doctor that your tumour, removed during surgery, is tested for a biomarker before any medicine is prescribed.

Today, more and more cancer medicines have a biomarker, (short for biological markers). These show if a medicine will work against your particular cancer. Biomarkers can be produced by the tumour or by other tissues responding to the presence of a tumour in the body.

In colorectal cancer it is the RAS genes (KRAS and NRAS) that help doctors make treatment decisions. These tests should be routinely available in your country. If one of these markers is found in your tumour then your doctor will prescribe specific medicines to target and stop the cancer spreading. You should not have to take medicines that work less well.

Your doctor can explain these options to you once your tests are complete.

Here are some questions to ask your doctor:
Has my tumour been tested for RAS status?
If so, is my tumour RAS wild-type or RAS mutated?
If not, where and when will the testing be completed?
How will the results from the test affect my treatment?
What will my treatment options be?
---


If you are interested in more information about RAS testing please click the image below to see a new leaflet for patients


More information can be found at: www.mCRCbiomarkers.com


Patient diary
You can find the patient diary (Managing My Illness) by clicking the image below